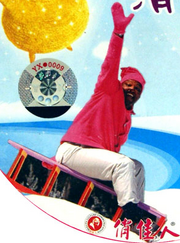 Jump side to side with the Boohbahs, and dance again and again and again. In Storyworld, Mr Man tries to climb a snowy hill. Are there steps he can take to get to the top?
2 Country Intro: South Africa & France
Warm-up: Jumping Side To Side
Storypeople: Mr Man
Dance: Dance Again And Again And Again
It's a sledge.
Somebody's coming.
It's Mr. Man.